Every picture tells a story!  It's incredible to see eight of our 30-plus regular volunteers who drive Mousehole AFC forwards all here together in a team photograph from as long ago as 1993!
Can you spot them?
There's so much more than 'nostalgia value' in the photograph, which was taken on 1st May 1993 before a Cornwall Combination League match at Mullion.
Back row, from left: Brian Stephens (Linesman), Dave Eva (captain), Tim Richardson, Jamie Liston, Dale Collins, Jeff Richardson, Ezra Chapman, Chris Davey, Fred Spurr (Groundsman), Roy Angove (President);
Front row: Steve Semmens, Peter Robinson, Chris Hicks, Andy Angove, Neil Jackson, Ally Dunbar, Darren Woodard.
Nowadays, there's a lot of talk about players' lack of long-term commitment and loyalty towards their club.  But that's most definitely not the case at Mousehole.
The eight still closely involved in the club are as follows: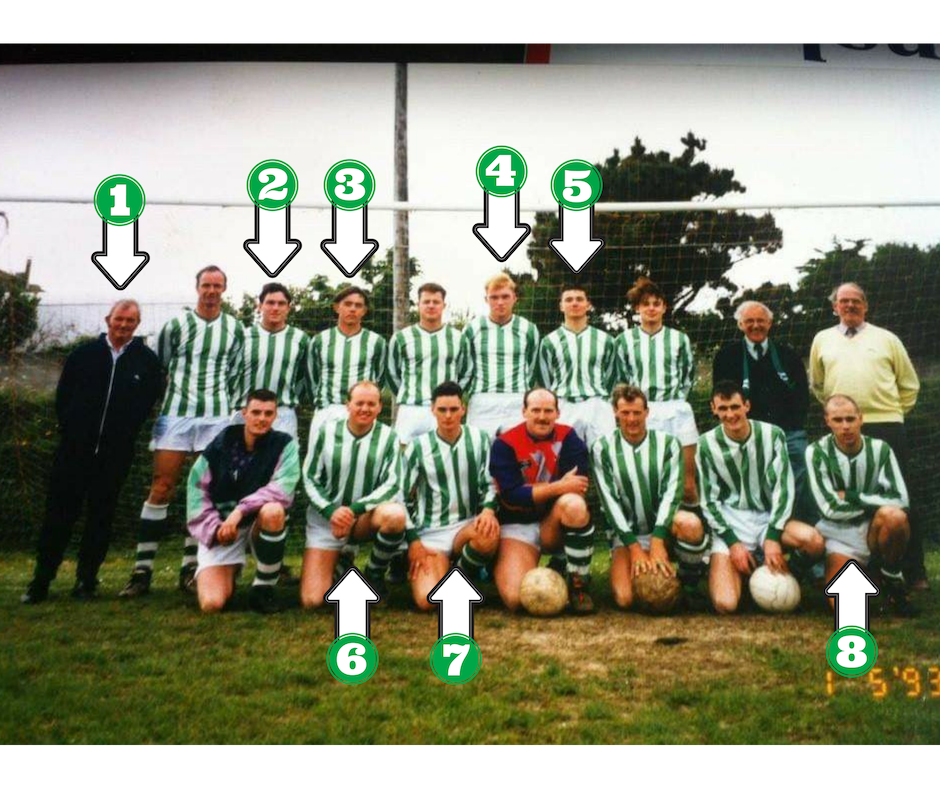 (1) Brian Stephens is a member of the ground staff
(2) Tim Richardson is now in his fifth year as Chairman
(3) Jamie Liston is responsible for building and facilities maintenance
(4) Jeff Richardson is Website and Social Media Manager
(5) Ezra Chapman is lead adviser and founder of the club's associated Endorsed Academy
(6) Peter Robinson is Vice Chairman
(7) Chris Hicks is a Youth Coach
(8) Darren Woodard is Club Secretary
You can find even more links when you consider that the father and BOTH grandfathers of First Team squad goalkeeper Dom Angove are also featured in this photo.
Mousehole AFC's hard-working and enterprising squad of volunteers is already making a massive difference to the work and infrastructure of the club, as it implements its long-term strategy to progress in a sustainable manner both on and off the field.
Please follow and like us: